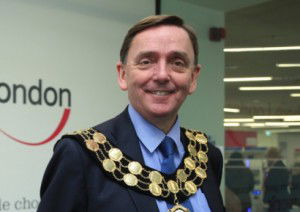 Self-confessed West Ham fan Sir Robin Wales has been deselected by his party today for the election for Newham mayor after 23 years in power. The Labour mayor of Newham will be replaced in May's local elections by Rokhsana Fiaz.
Sir Robin had faced opposition after Newham council spent over £50m under his leadership on the London Stadium while borrowing £40m only to later pull out of Stadium ownership company E20 last December after sustaining heavy losses.
A trigger ballot in which Sir Robin was automatically reselected as Labour candidate two years ago was challenged by his opponents – who claimed there were irregularities.Last month, the Labour Party decided to rerun the contest as an open selection. Sir Robin lost by 861 votes to 503.
Sir Robin congratulated Ms Fiaz but described her promises as "ambitious" and said he was "looking forward to seeing" her implementing them.
He also said the local party had "fallen into internal sniping and disputes often based on untruths" over the last few months.