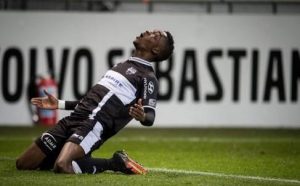 Henry Onyekuru could face a challenge to obtain a work permit as he does not automatically qualify on the percentage of senior international matches for his national team. In order to automatically qualify for a work permit, the player must have participated in a certain percentage of senior international matches for his national team.
Generally, that percentage is calculated over a two-year period. However, The FA, recognising that it is more difficult for younger players to break into their senior national teams, reduce the calculation period to one year for players under the age of twenty-one.
As Nigeria are ranked 38th in the world he would have to play 75% of Nigerian games in the last twelve months as he is under 21 years old.  He has made just one appearance.
It would mean that Onyekuru's fate will be in the hands of The FA's Exceptions Panel.
The Panel would be asked consider what The FA describes as "the player's experience and value" in order to determine whether a work permit should be granted.
The Panel is comprised of three members: a legally qualified chairperson and two independent panel members with "relevant experience at the top level of the game". The decision whether the Panel should recommend to The FA that a work permit would be granted is by majority vote.
The Panel initially takes a points-based approach to determining whether the player should be granted a permit. If the player scores four or more points against the objective Part A criteria, the Panel will then immediately move on to conduct a subjective review of the information presented by the club and another other information it deems to be relevant.
Objective Criteria to award points
The transfer fee being paid for the player is above the 75th percentile of all Premier League transfers in the previous two transfer windows – 3 points
The transfer fee being paid for the player is between the 50th and 75th percentile of all Premier League transfers in the previous two transfer windows – 2 points
The wages being paid to the player by the applicant club are above the 75th percentile of the top 30 earners at each Premier League club during the previous transfer window – 3 points
The wages being paid to the player by the applicant club are between the 50th and 75th percentile of the top 30 earners at each Premier League club during the previous transfer window – 2 points
The player's current club is in a top league and the player has played in at least 30 per cent of the available minutes in league matches – 1 point
The player's current club has played in the group stages of a continental competition within the last 12 months and the player has played in at least 30 per cent of the available minutes in league matches – 1 point