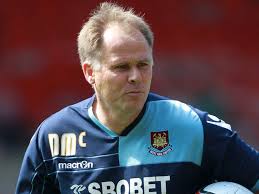 Well well well Sam Allardyce appears to have done a disappearing trick following another drubbing leaving his loyal Number Two Neil McDonald to handle a difficult press conference.
Macca is a thoroughly decent and honest guy but his assessment that "We were right in it until they scored their second goal," seemed a tad whimsical.
He then added: "We also had to recover from the sucker punch of them scoring in the final five seconds of the first half.
"Even though they breached us a couple of times, Adrian has made some fantastic saves to keep us in the game early on, so that goal knocked the stuffing out of us right on half-time.
"The team talk did not really change – we had to pass the ball and move up the pitch a little bit better and try to put them under pressure. The players listened to what the manager said and we had the ball on the front foot a little bit better.
"We got in behind them and created a couple of chances, but we didn't take them and then we got hit with another sucker punch with two goals in quick succession, as Arsenal sometimes do at home."
He ploughed on: "We were disappointed with their second goal, as it came from a throw-in situation and we work very hard on stopping the opposition scoring from set plays.
"The second goal killed us and didn't really give us a chance to get back into the game, then their third one shouldn't have happened because we should have shut up shop and not allowed it.
"Game-plan wise it wasn't too bad in the first half and the response from the players was really good, considering we have got a few important players injured. The goalkeeper was also absolutely magnificent, considering he dislocated his finger before the game."
So there you have it – two sucker punches and a third that shouldn't have happened. Well at least nobody mentioned the words "injured players."
Sometimes it's as well to be grateful for small mercies!