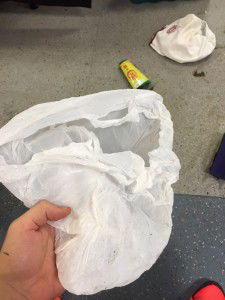 Captain Mark Noble showed what a canny boy from Canning Town he is by collecting a carrier bag floating around the pitch during West Ham's two nil over Liverpool this afternoon.
The skipper had one of his best games this season but he still found time to stuff a white carrier bag down his shorts that was blowing around the Boleyn Ground pitch. From October last night the Government bought in a 5p carrier bag tax. The player later tweeted a photo of the bag saying "Straight in my pants"
Noble signed a new five and a half year contract in February last year thought to be worth £45,000 per week.Noble's deal runs until 2020 and will take him up to the age of 33 by which time he would have earned £12.8m from the new deal.
However, No-one likes paying the 5p carrier bag tax and Mrs Noble will be delighted when he brings home that white bag this evening for the big LIDL shop tomorrow.
Disclaimer: And before anyone takes this too seriously, yes we are only having a laugh.
Mark Noble isn't stupid. Plastic bags are 5p these days. pic.twitter.com/V6bYcnNvgM

— Footy Accumulators (@FootyAccums) January 2, 2016