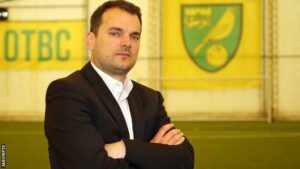 Norwich City does not think it would be fair for them to relegation after playing their games behind closed doors if thee Championship do not finish their season.
"What we could not accept is a situation where we play all our games and get relegated, but the Championship can't play, and they automatically promote some teams who haven't finished the season," Norwich sporting director Stuart Webber told Sky Sports.
"For anyone who has got promoted from the Championship, it is a 46- or 49-game slog. It needs to be settled on the pitch – both coming up and going down."
Norwich is the latest club to voice their concerns over project re-start with Watford, Aston Villa, Southampton, Crystal Palace and Brighton directors all having their say.
West Ham Vice-Chairman Karren Brady has also used her Sun column to voice her concerns and misgivings over complex issues.
Despite Norwich's comments to Sky, a report by ESPN today suggested the Championship league could start on 6th June ahead of the Premier League.