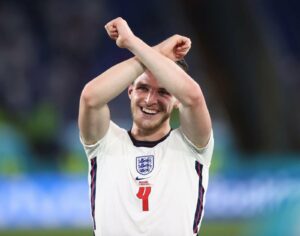 Declan Rice is at the centre of honorable mentions wherever he goes and whatever he does these days.
Those early pundits who claimed he was set to follow in the footsteps of the great Bobby may still be a bit off the mark but he will surely become one of those names who will continue to make West Ham the "sexy" club it has always been.
He gets regular 8 out of 10 for his usually near peerless performances and is a hero to the new generation of Hammers who have someone who can take his place alongside those from the past they find mentioned so regularly.
Now comes a new pile of praise as in a technical report for the EURO 2020 final the Declan was showered with praise.
The West Ham man was commended for the way in which he 'caught the eye with interceptions, tackling and, after ball-winning, the ability to twist and turn his way out of Italy's aggressive press'.
Mind you David Moyes was on the technical committee but hey the report isn't wrong.