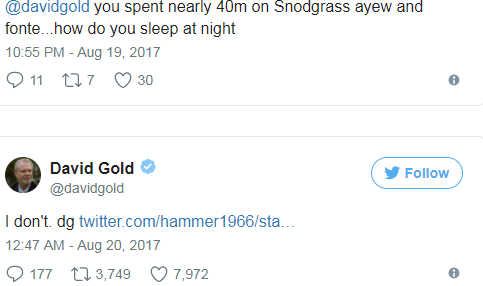 David Gold could have a very embarrassing moment if he bumps into any of Jose Fonte, Robert Snodgrass or Andre Ayew around the club tomorrow.
Both the ageing central defender and £20 million midfielder/striker had nightmares against Southampton yesterday at Southampton. Snodgrass meanwhile was again absent amid informed speculation of an imminent move away from the London Stadium
Fonte's and Ayew's performances came on top of several underwhelming displays since they arrived at the club  but Gold appeared to take no prisoners when questioned on the trio.
Collectively the three cost a total of around £35 million and even were the club to find buyers for all three they would probably do well to get half of that.
DG was asked by a Twitter follower: "You spent nearly £40 million on Snodgrass, Ayew and Fonte. How do you sleep at night.
Responding at 12.47 AM this morning the co chairman replied "I don't"
WHOOPS!