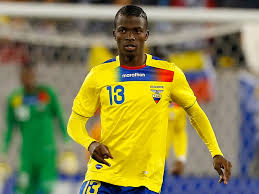 Enner Valencia remains hopeful he will be ready for the first game of the season against Tottenham Hotspur.
The new Hammers star signing – who scored three times at the World Cup – declared: " I'm training normally at the moment, trying to get match fit after time off after the World Cup. Hopefully I'll be fit for the first or second game."
The Ecuador front man said it was his World cup compatriots who convinced him to move to the Premier League.
He said conversations with Antonio Valencia – no relation – as well as former Man City striker Felipe Caicedo – made up his mind.
He added: "Me and Antonio talked a lot and he gave me advice, also Caicedo and it's a fantastic league.
"Both of them played here and we've stayed in contact and they played a big part in me coming here.