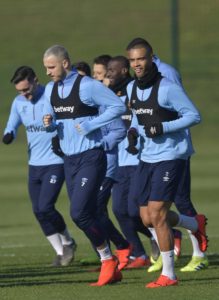 Winston Reid's future is becoming more and more of a worry.
The central defender missed all of last season of course and has barely been seen in pre-season with intense care being taken over his comeback.
He was due to have returned to full training this week but is unlikely to be seen in competitive action for a while yet as he recovers fully from a knee injury.
Reid, who is now into his ninth season with the Hammers, has been sidelined since he damaged his knee when tumbling to the turf after being knocked out against Swansea City in March 2018.
Now virtually 18 months on he is surrounded by conspiracy theories about his future although the club continue to claim they are hopeful he will make a full recovery.
However, Manuel Pellegrini has admitted that the medics are continuing to be ultra careful with the player telling reporters: "Winston Reid is working with the squad but we must be very careful, he was out for around one year nine months, so he can be fit but we must have special work for him."