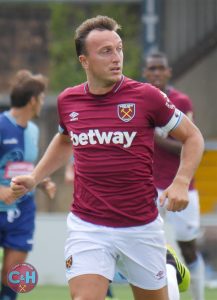 West Ham senior players led by skipper Mark Noble have come to an agreement with the board to defer a portion of their wages for three months to help the club's cash flow position. The Hammers are only the second club to agree on a deferment after Southampton players reportedly agreed to defer 10% of their wages in April, May and June.
The exact percentage of the pay deferment of the Hammers wages remains confidential under the terms of the agreement although Claret and Hugh understand it is somewhere between 20% and 30% of their gross pay each month.
With a monthly payroll of £10.4m West Ham could save as much as £3.1m per month or £9.3m over three months.
The deferment of pay is just that and all players will have that percentage paid back to them in full in the future so the agreement is akin to loan from the players to the club.
The deferral is on top of a £30m cash injection from the shareholders, a deferral of interest on shareholder loans and a pay cut from the highest-paid executives on the board.