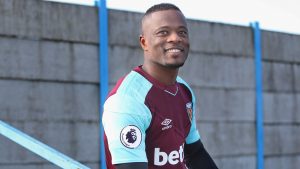 After many months out of the game , veteran Premier League defender Patrice Evra made his first appearance in a Hammers shirt and Daniel Danielli Leach tracked his every move.
10 – Holds the ball up well against Arnold and spins him before passing the ball to Arnautovic
15 – Wins a 50/50 header which deflects off Can but still finds the desired target João Mario
16 – Makes an important tackle on his opponent which the ball falls to Noble
25 – Receives a good cross field pass from Zabaleta but the ball to Arnautovic does not reach him
26 – He nutmegs Oxlade-Chamberlain but the ball goes back into Liverpool possession as he cannot follow through an retain possession.
26 – He wins a foul on the left hand side after being tripped by Firmino
29 – He unsuccessfully plays a one-two with Arnautovic 
48 – Makes a great tackle on Arnold but the ball goes back to Liverpool possession
51 – Plays a neat one-two with Cresswell but no attack materialises
55 – Calmly turns Oxlade-Chamberlain and plays the ball to Lanzini in midfield
62 – Plays a very heavy ball to Arnautovic down the line but miraculously Arnautovic chases Arnold and steals the ball off him
68 – A lobbed ball to the edge of the area for Arnautovic does not reach him
75 – A poor Noble pass which was about to go for a throw on was kept in play by Evra very well as he clears the ball down the line to keep it in play
89 – Chases the ball down against Arnold very well and wins the 50/50 hustle between them
Verdict – 6 – Despite an underwhelming first appearance,  Evra was one of our better performers. Given that he has not played a competitive game for 4 months and is pressing on in years he played quite well against a fine Liverpool team. His experience was evident throughout as he was composed, made many tackles and was arguably our best defender even though he is off the pace compared to his performances in his prime. He also tried to link up with Arnautovic on many occasions.