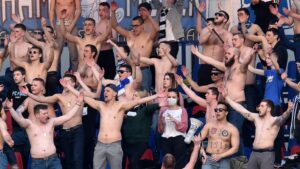 The Premier League could finish their season in Belarus a secret leaked document has revealed today.
The Belarus Premier League is still running and all football stadia remain open for business due to the low spread of the virus in the former Soviet bloc country with a population of 9.5 million.
The president refuses to lock down the country and says football should continue as normal.
Premier League players could be airlifted to the Eastern European by the British Airforce in specially adapted transport planes with a full complement of backroom coaching staff.
Players would be required to wash their hands with vodka, take regular saunas and drive tractors to and from training sessions in an effort to reduce risks.
Games from Belarus would be broadcast back to UK Live as there are no flights taking off from the UK but local Belarus supporters would be allowed to watch to add atmosphere.