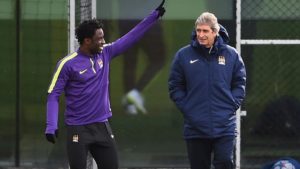 Wilfred Bony could have the last laugh at West Ham's expense!
The previous Hammers transfer target now 30 who previously played for Swansea City, Manchester City and Stoke City is now training with Newport County as a free agent and could yet sign for the Welsh outfit before the Hammers Carabo Cup draw at the end of the month.
West Ham chairman David Sullivan once told Jason Burt of the Telegraph that he regretted not signing Bony for an £8m transfer fee when the then manager Sam Allardyce insisted on signing Andy Carroll instead.
"I would have bought Wilfried Bony for £8million and 40 grand a week," Sullivan told the Telegraph at the time. "Swansea paid £12m. I had him bought for £8m."
West Ham ended up paying £17m for Andy Carroll paying him £85,000 per week.
Bony was later famously signed by Manuel Pellegrini at Man City for £29m before later re-signing for Swansea for a knockdown £11.70m in 2017.
During his time at Manchester City West Ham tried to sign him on loan but he never happened for whatever reason.