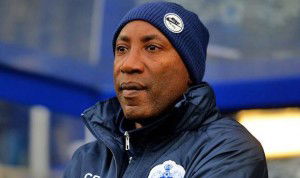 Queens Park Rangers boss Chris Ramsey is expecting "a blood and thunder London derby" at the weekend and has pledged: "We will be positive and on the front foot and going for the win."
And he claims he's astonished by the speculation surrounding his opposite number Sam Allardyce's job adding:""Whether it's true or false I don't know. I don't see why there would be speculation about his job – he's done a very good job at Upton Park.
"Sam will prepare his team as he always does. The speculation about his future will have no impact on the game."
He claims – not unlike ourselves – that Rangers have "lacked concentration in the final moments."
He said: That's the difference. But in general our displays have been good. "The last month of the season – all results will be key. We just want positive results from our games.
"All we care about is getting above that line by the end of May. That's all that matters.