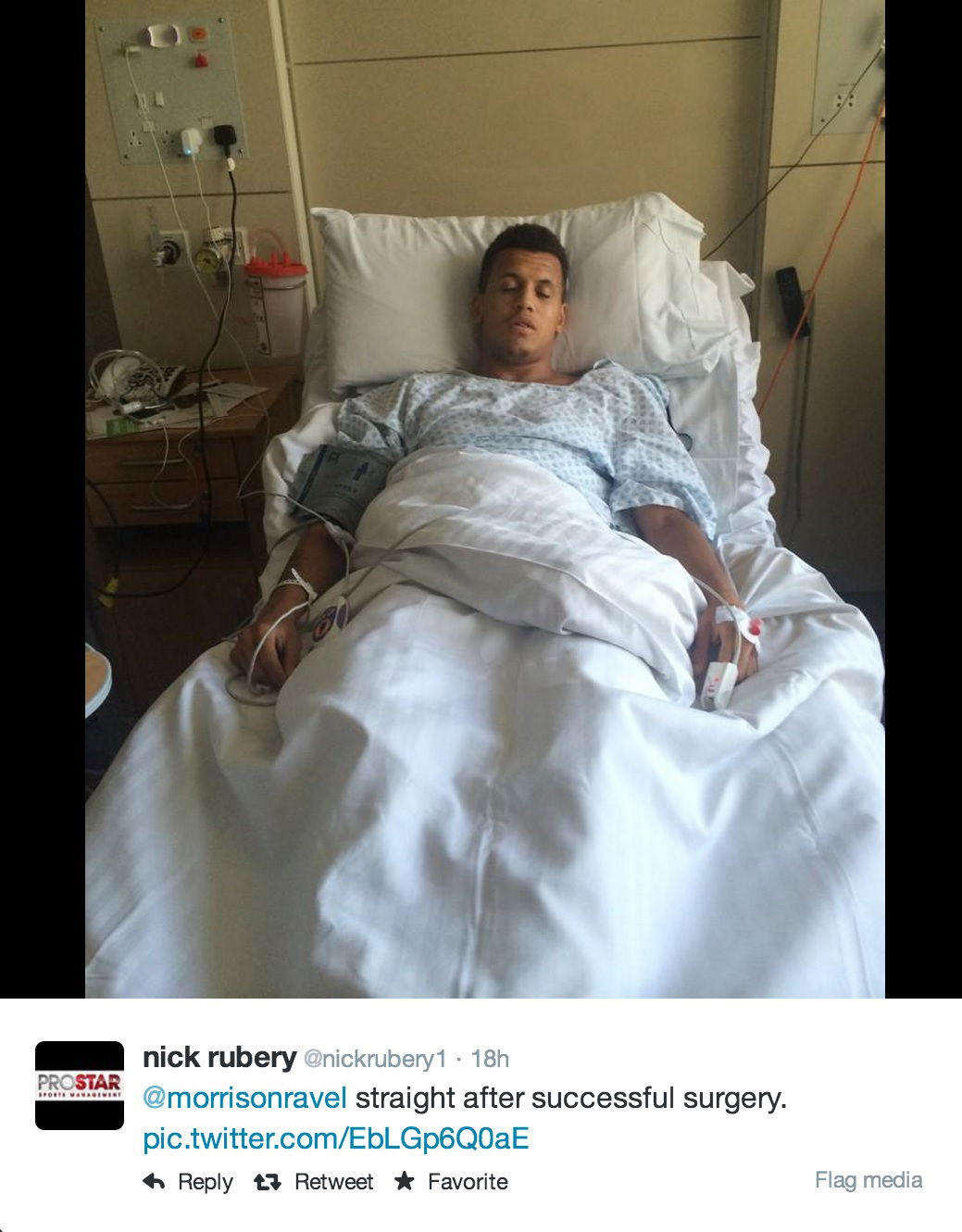 Ravel Morrison's footballing life amuses, infuriates and entertains in almost equal parts!
But it's the activities of his agent Nick Rubery which have attracted interest over the past 24 hours!
For on Tuesday evening Mr Rubery decided to post a picture of his client on Twitter which showed the midfielder in a hospital bed after a minor surgical operation on his groin.
The question is: WHY?
The West Ham official website had already revealed the news and in a normal world that should surely be enough.
But this of course is Ravel Morrison and the history of famous 'groin injury' – sustained  ahead of the Christmas programme after he'd been dropped – has never been forgotten.
There were conspiracy theories until now that there was no groin injury but  instead that it was all about the player's differences with the manager.
It became so much the received wisdom that  Rav's reputation began to fall even among some of his most ardent believers
Sam Allardyce had a very firm view on the situation declaring at one point: "Listening to our medical staff, there is no problem that he can carry on – not at all
"He says he feels it occasionally. Instead of gritting your teeth and getting on with it… he's not the type.
"Lots and lots of players throughout the country will be playing with a similar type of injury that the medical team say 'you can carry on, it's not a problem'.
The player was shipped out to QPR on loan where he played games and we started to arrive at the point where many – perhaps most –  believed we would never see the fella in a West Ham shirt again.
But he's back and with the injury dealt with, maybe Rav's agent had a point in making it clear there has indeed been a problem,
But just why was surgery left so long and why should the club choose to have it dealt with immediately ahead of the trip to New Zealand?
Easily answered. Rav is a notoriously bad traveller. Those who know him well admit that he often feels uncomfortable in foreign parts and as a result this seemed the ideal time to have the injury sorted.
The life and times of Ravel Morrison has been given too much attention and has become a distraction.
I believe this is s the biggest season of his career. With the injury issue dealt with and the club embracing him as a bg part of things, let's believe he's going to show himself to be the re real deal.
There have been far too many questions hanging over what  should be a wonderful career …come on Rav start giving us the right answers.