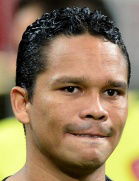 West Ham are this morning reported to have made a £16 milion offer for AC Milan striker Carlos Bacca.
His is the latest name to emerge from a list which has 20 names on it but AC are are looking for around £20 million for the 29 year old who also wants around £60,000 a week after tax.
The Colombia international scored 24 goals in all competitions last season ad has a fine scoring record across his career.
Over the last three seasons he has managed 28 for Brugges, (2012-13),  34 for Sevilla (2013-15) and  the 24 last season.
The Hammers again face  tough test to get a player who only signed a four year deal with the Italian outfit last season – a deal which allegedly contained a £30 million buyout clause.
The club are also understood to still be in talks with Toulouse over a deal for Martin Braithwaite but he would be a secondary striker.
A Hammers source said: "We are keeping names of players to ourseles bt of course it is well known a striker is the main priority!