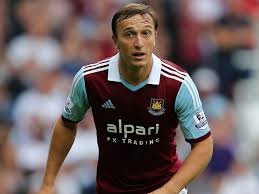 Mark Noble is reported tonight to be ready to take his international chance with the Republic of Ireland.
The Daily Mail – which on Thursday ran an interview with the player – is saying that sources close to the Irons loyalist have revealed he is ready to "row in with the Republic."
The report says that Noble qualifies through his grandparents and at 27 sees this as the way forward.
It adds: ' He is eligible for Ireland through his Cork-born grandparents, has been on Martin O'Neill's radar since he became manager last November. '
 The Mail then claims that  sources close to Noble is now ready to accept O'Neill's invitation to join the Irish and that with a fast track passport, Noble could be involved against world champions Germany in Gelsenkirchen on October 14.