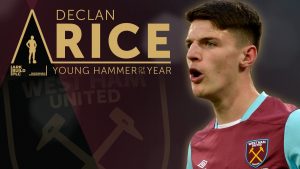 Declan Rice has revealed his keen desire to become the next Mark Noble at London Stadium.
The youngster skipped the U23 side to Premier League 2 promotion via the play-offs, while regularly featuring on the first team bench as the season reached its climax.
He made his first team bow in the final seconds of the last game at Turf Moor, thus sharing in a 2-1 win as well as lifting the Young Hammer of the Year award.
He said: "The award just topped off the season perfectly for me. Then, to go on and make my debut afterwards was even better. I never thought I would win that award.
"Being Ireland's U17 Player of the Year this year after getting the Dylan Tombides award the year before – it's been amazing.
"Some big names have won the award before, like Nobes earlier in his career. The guys who have won it in the past have gone on to have good careers, too, and Nobes has played 400 games for the Club.
"Hopefully I can make my mark in a similar way to him. I have always wanted my career to be here since join