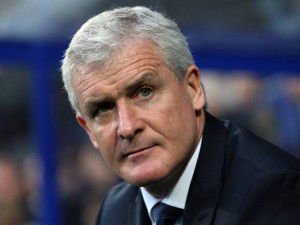 Mark Hughes valiantly attempted to play down Marko Arnautovic's clear mockery of him as the Hammers 3-0 victory was completed over Southampton
Marko celebrated his second goal in the direction of Hughes with with crossed arms, a reference to the crossed irons in West Ham's crest.
"They have worked together over the years [Arnautovic and Hughes], Marko is that type," Moyes said.
"People who have worked with him know that, they will tell you."
Hughes did an Arsene Wenger after the game claiming he hadn't noticed but said: "My relationship with Marko Arnautovic when I worked with him at Stoke was very good, you'll have to ask him about that [goal celebration].
"I don't know if he was pointing at me or was just excited by scoring."
Perhaps we can help Sparky: He was taking the p..s