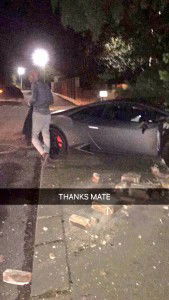 Photos have been posted on social media this evening of Diafra Sakho's new Lamborghini sports car crashed into a front wall and owners car in Emerson Park. The owner of the house and car called Sophie Engstrom posted on twitter "Great night when Sakho drives into your house & car 😊😊😊"
"The fact that no one cares that no one was hurt just asking me if he's injured says a lot about you all"
She later confirmed no-one had been injured adding "Everyone was fine thank god!"
The incident is thought to have taken place this evening outside Nelmes United Reformed Church, in Nelmes Road, Hornchurch, Essex.
Sakho posted a message on his own twitter account after the incident saying "Thank you for the messages. Was involved in a small car accident this evening. Thankfully no one was hurt."
Sakho posted a photo of his Matte grey Lamborghini on Snapchat just two weeks ago. The striker has been out injured since late November but has resumed training and is set to feature again early next month.