ClaretandHugh has uncovered another top blogger in Hammers devotee Aran Dorton who in this piece argues that the Allardyce/Irons union could only ever end one way!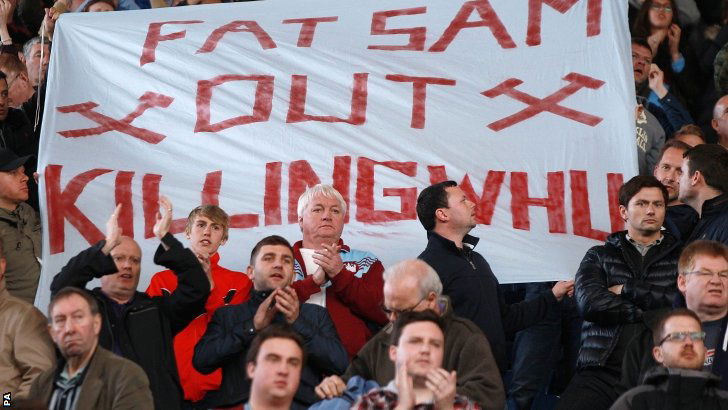 by Aran Dorton
It's always been an uncomfortable union. Now, amid widespread fan unrest, West Ham United and our besieged manager Sam Allardyce look set to part ways.
In June 2011, those who bore witness to this curious coupling whispered in their pews that it could never last.
'How could it? They have nothing in common,' said one. 'They need each other,' retorted someone else, 'neither have had much happiness recently.'
With the Wedding Bells still ringing, Allardyce moved to cast fears aside, showing willing to compromise. "That history that West Ham has I am very well aware of, and we will play the West Ham way with the players we have got to achieve the ultimate and that's winning football matches."
Big Sam, or Fat Sam to an increasing number of angry Irons, has, in most supporters' eyes, broken his vow.
Our predicament in summer 2011 was such that many held their peace despite concerns about Sam's style of play. Here was a man who had done reasonably well wherever he'd gone, with a reputation for getting the most out of the players at his limited disposal and a vast wealth of experience.
Throw in the assertion that he would play free flowing football and we had reason to believe our relationship would be a fruitful, long-lasting one.
But can an 'old Dinosaur' learn new tricks? After promotion through the play-offs, Sam must have known that the onus would now be on him to instil a style of play befitting the traditions he acknowledged so reverently when he signed.
He must have known that whilst mid-table mediocrity is almost par-for-the-course at West Ham, we like our frugal expectations to be tempered with attractive football.
Allardyce has been at odds with the fans for quite some time. He's been haunted by the intangible, yet very real notion of the 'West Ham way' and refuses to accept criticism of his approach.
"Style of play is just a label everyone uses against me, no matter what style I play. When the tag is laid down, you just can't get rid of it, so you just ignore it and get on with it."
It is hard to share Sam's view that he has been typecast. He flicks between arguing that his team plays football the right way and arguing that styles are irrelevant – results are his only priority.
The problem for everyone in claret & blue is that, unlike last season, not even the results are satisfactory. The statistics are either worrying or downright abysmal: depending on how much credence you give to football by numbers.
According to website whoscored.com, we have the second lowest possession stats (42.7%) and the second lowest pass success rate (73.6%) in the league, with only Tony Pulis' Crystal Palace behind us.We concede on average over 17 shots a game whilst mustering just 11 and we trouble the opposition goalkeeper the least of all 20 top-flight sides. The statistics bear out what many describe as 'anti-football'.
The problem with Sam has never been, and probably never will be, his failure to doggedly deliver lower mid-table positions in the Premier League and this season hasn't been the failure some hold it up to be.
Sam has had a long injury list to deal with; the team have kept 13 PL clean sheets this season, a Capital One Cup Semi-Final – not to mention two victories over Tottenham (and another to come this weekend).
Alas it is not enough. Sam has handled the fans badly, goading them after the win against Hull and ridiculing the fond memories that many hold of players who raised the pulse of those at the Boleyn. He had handled Ravel Morrison badly, the one player who raised the collective pulse this term.
David Gold and David Sullivan are not prone to making rash decisions with managers, and ultimately keeping faith with Sam has seen us all but secure safety.
The dissenting voices have loudened now that our top-tier status has been secured – and the board are aware of the unrest. With the Olympic Stadium move just two seasons away the time for a change is nigh if we are to build a team and a style of play fit for 54,000 hammers. West Ham and Big Sam must divorce, citing irreconcilable differences.