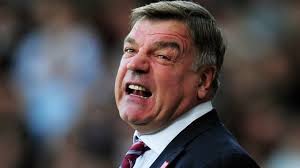 Sam Allardyce has categoricallyrefused to change the Irons style of play!
Despite  raging fan discontent over his style of play, the manager is again refusing to do anything about it. Instead he insists he's misunderstood and that the criticism is all about his reputation and not the reality.
 He said:  "Style is just a label that everybody uses against me no matter what style I play.
"I am never going to get rid of that because the style I play is not what they say, just as it wasn't at Bolton. But when the tag is laid down that is it, you can't get rid of it so you just ignore it.
Despite a torrent of disagreement and finger-pointing at what has been dubbed his one-dimensional approach which relies almost entirely on  lumping it up to Andy Carroll, West Ham's manager is not listening.
He said: "I play football to win and I use the team in the right way to win as many football matches as we can. We try to entertain, particularly at home, by attacking and winning."
However, there was no explanation as to how the system had failed to produce a winning performance in the last three attempts.
And it avoided the Claretandhugh poll in which two thirds of those voting made it clear they wanted entertainment over results!
His logic went like this: "Everybody knows that if you see a good performance then it is relatively okay if you don't win, but if they don't see a good performance and you don't win then everybody expresses their disapproval."
He said: "At many clubs there are fans expressing their disapproval at their teams and that is the way the game is today.
"If I allowed that to affect me, I might as well pack my bags and walk away because you can't let that sort of thing get to you when you are focused on the players to move forward and get better."
Of tomorrow's trip to lowly West Brom, he added: "The pressure will be pretty intense because we all know what is at stake and we have to handle that better than West Brom," he said.
"They are really tough and I think on their own ground they have been so close to so many victories and only slipped up in the dying seconds.
"We want to keep a level playing field for as long as possible and our goal would be to do what we did at Sunderland."