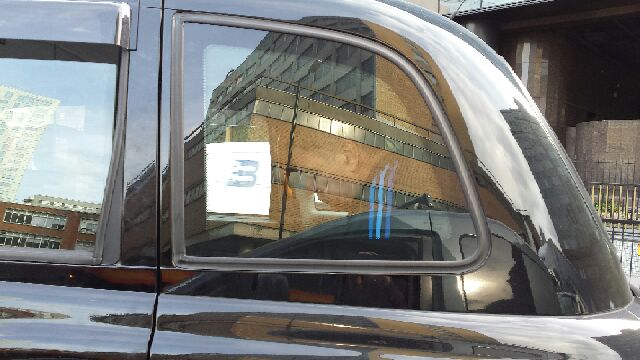 ClaretandHugh's blogger Nigel Khan has made his dislike of Sam Allardyce pretty clear over recent weeks!
Without knowing it the manager had a brush with the lifelong Hammers fan when responding rather brusquely to an e-mail he had sent to Goals on Sunday.
Having discussed that in his last blog on the site, Nigel has again crossed swords with Big Sam in another random incident on the streets of London…although the Upton Park chief still has no idea that he is having a proxy feud with one of his fiercest critics!
In the picture above – despite the fierce London sun causing some reflective obscurity – Sam can be clearly seen studying his mobile !
By Nigel Khan
It's not important for you to know my name
Nor I to know yours
If we communicate for two minutes only
It will be enough
For knowing that someone in this world
Feels as desperate as me
And what you give is what you get
It doesn't matter if we never meet again
What we have said will always remain
If we get through for two minutes only
It will be a start!
For knowing that someone in this life
Loves with a passion called hate
And what you give is what you get
If I never ever see you
If I never ever see you
If I never ever see you – again
And what you give is what you get!
The words of  'Start' by The Jam seem an apt way of describing my 'meeting' this week with Sam Allardyce.
It was brief, we communicated for less than two minutes, I probably will never see him again, and what you give, is what you get.
Sitting in London traffic on a train strike day is frustrating to say the least, especially with London cabbies trying to cut you up at every turn as if they own the streets of the capital.
Part of the fun of driving in London is getting your own back on them and that's what I managed to do on Wednesday. The black cab thought he was jumping in front, but I saw him coming and blocked him.
So there I was sitting level with the cabbies passenger! I look over, I look at him he looks at me, and he looks down to his phone, not to look up again.
That passenger was none other than the man I love to hate with a passion – Sam Allardyce. I wanted him to look up, I stared at him, but nothing, I even took a photo but still he looked down.
The traffic started to move and I stopped in front of the cab, got the driver to lower his window and then  shouted:  "Do us a favour mate, Drop him off at the airport" and like a child I drove of laughing to myself.
The incident happened at the Aldgate one way station as it filters right into the High Street. As you head into  Aldgate High Street Street, a bus lane starts and that's where the cab made for, driving past me slowly.
Out of the back window was Sam, making a gesture upon which I won't elaborate. I must admit, I laughed, thought it was well funny.
He knew I was a West Ham fan, my claret zip top with the West Ham badge was a bit of a give away just in case my comment hadn't alerted him to the fact!
Childish as it was to make the comment, I just couldn't let the moment pass without saying something.
After all, last Sunday on Sky Sam said that all the West Ham fans he meets are good to him and that only a minority on line that want him out.
I just felt the need to get the point over.., its not just on line, its those on the streets, and those that go to the game as well.
Your time is up, time to catch that plane Sam.