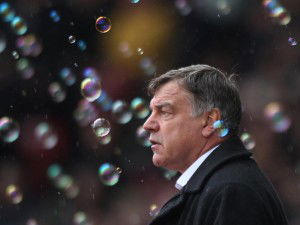 Perhaps a tad over the top but Sam Allardyce has described the win over Sunderland as the biggest of the season!"
The relief he's been expressing since the scrappy 1-0 victory over a less than average Black Cats team may be rooted in the current uncertainty surrounding his position at the club.
And that was reflected very strongly in what was a very untypical and seemingly nervous TV interview before the game where in an unusually quiet-spoken mode he spoke of this being a "must win " game.
That it was Diafra Sakho who again came to his rescue continues to amuse as the 12 goal man was all but lost in negotiations back in the summer! Nudge nudge, wink wink.
Sam's relief was palpable as he declared ro West Ham TV : "It was a big game and probably our biggest win of the season.
"It settled everybody's nerves, because you could see the fans have come here so often recently, seen some really good performances and gone away having applauded the lads off the field but disappointed about the result.
"The performance wasn't as good as it was against Manchester United or Chelsea but I'm sure, like us, all they wanted to see was a victory. When it came as late as it did, it is always sweeter that way."
Next up Leicester and then Stoke – it will be no surprise to hear them described as our biggest matches of the season!