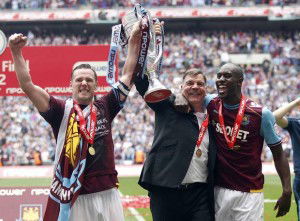 Sam Allardyce has used his London Evening Standard to reflect on his four years at West Ham in something which closely resembles a farewell speech.
"I would just like to take this opportunity, in this final column of the season, to look back on my four years at West Ham. Progression is always the key word for any manager when he joins a new club. To do that, he must ask questions and find the answers. What are the  difficulties? How do you overcome them? How do you achieve the targets set by the owners?
The ambition of the owners has to be balanced by financial availability. If they want to move forward quickly then you have to spend more money. If, however, you want to progress at a steadier pace, then you have to spend the money available more wisely. If you have little or no funds, then it's difficult to move forward at all.
There's always been investment since I've been here and that money has served the club very well in terms of bringing in players. Over the four years, the player turnover has been astronomical, particularly in that first season in the Championship.
That presents a huge task for the manager and you see many lose their jobs because, as their critics often say: "There was too much change, too quickly."
We made those wholesale changes and not only coped in that first season but built a better team, one good enough to go back up to the Premier League at the first attempt. I had signed a two-year contract and my task was to help win promotion in that time. One of the hardest things in football is to do that in the first year — very few achieve that — but we managed it.
You can't over-exaggerate the feeling of depression around a club when they are relegated and West Ham were no exception. There was desolation  everywhere and you have to help rebuild the confidence, both of the club and the players — and do it quickly.
I remember sitting down at our pre-season camp, talking to the players individually, and 50 per cent wanted to leave.
We needed to work hard and quickly and the club sent out a big statement of intent when we signed Kevin Nolan. I thought the club's financial commitment there was fantastic, signing an experienced Premier League player — one who scores goals and is a great captain — and convincing him to come to a club in the Championship.
That gave us a rock-solid base on which to build and then, later, around Christmas when the goals dried up, we signed Nicky Maynard and Ricardo Vaz Te, with Ricardo in particular adding that scoring power.
I thought then we were headed for automatic promotion but no one expected the surge from Reading, who came up on the rails and pipped us.
The play-offs did, however, provide me with my greatest moments of my time here at West Ham. The pleasure and delight of that play-off final win over Blackpool is a memory I will never, ever forget."