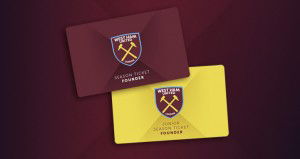 Season Ticket Holders will shortly be receiving access cards for the former Olympic Stadium.
Welcome packs for the Club's 52,000 Season Ticket Holders are set to land on people's door mats from the week commencing Monday 25th July say the club. Access cards will first be in use for the Hammers' maiden Premier League home game against Bournemouth on Sunday 21 August.
For both the UEFA Europa League fixture and the Betway Cup against Juventus, supporters will be issued with paper tickets. Enclosed with your access card, you will find a welcome letter from Vice-Chairman Karren Brady, together with the very latest travel information of how to get to the stadium.
There are also details of the new ticket exchange and season ticket forwarding system in place for the new season, as well as a guide to the Stadium's features and season ticket discounts.
The turnstiles will open two hours before kick-off and there will be introductory deals on food and drink on offer.
Karren Brady confirmed on twitter this afternoon that access cards had been "Posted last week, will start arriving this week."
There have been no reports on social media of anyone receiving their packs yet, maybe they sent them out in the second class post.