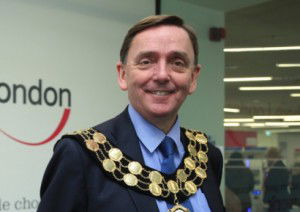 Newham council has repeatedly refused to reveal the extent of hospitality and free tickets to watch West Ham.
They claim the information is exempt as it will be revealed sometime in the future.
In September last year, Newham revealed that 3,291 tickets were given away to Newham employees and residents for West Ham matches aginst Domzale, Bournemouth and Astra Giurrgiu but since then decided to refuse all freedom of information requests for more information.
In March this year, they refused an appeal to release free ticket information claiming it would premature to share the number of tickets given out to residents and employees.
In March, Newham Mayor Sir Robin Wales and Newham CEO Kim Bromley-Derry attended the West Ham v Chelsea evening in the posh Royal East lounge enjoying the full hospitality on offer. They were not guests of West Ham and no register of gift or hospitality was made by Councillor Wales following the game.
West Ham fan Sir Robin Wales does register a free lunch at a posh West London Members only club with Hammers Vice Chairman Karren Brady and West Ham MD Angus Kinnear in January this year. Previously he accepted hospitality and registered it from West Ham for four matches last season at the Boleyn Ground.
Newham were asked to supply the names and dates of Newham councillors and senior management attending London Stadium hospitality lounges since the season started but again the freedom of information request was refused as they claimed it is premature to released such information.
Newham council receive up to 100,000 tickets per year as part of the original rental agreement but it is not clear how these are distributed and what policing takes place to avoid abuse.