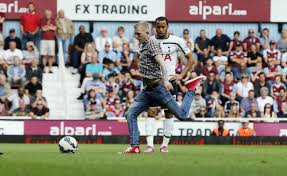 Jordan Dunn quite clearly isn't your normal type of pitch invader!
In fact normality seems to be a missing link in this bloke's world but try as I may there's absolutely no way I can get upset at his hilarious attempt to beat Adrian with a drunken free kick.
Unfortunately Hammers co chairman David Gold – who himself has a highly developed sense of humour – seems to have well and truly got the hump with the fella from Dover.
He has berated the judge who failed to give him a banning order and taken him to task for having a smile at Jordan's 'Bend it like Beckham' attempt.
He has since declared that we can watch out for similar incidents as a result of what he clearly believes is judicial leniency.
Dunn, meanwhile, having claimed initially a banning order wouldn't bother him  because his mates thought he was a "legend," was instead fined and immediately launched an appeal which saw the monwy raised in less than a day.
Now in my world the geezer is worthy of great admiration. There's cheek, downright cheek…then there's Jordan Dunn!
I can't quite work out why DG has got the hump so badly. Ok, running on the field of play whilst many sheets in the win isn't something we want to see repeated – nor do I think it will be.
Dunn is something  of a one-off I reckon and that he should take such a good free kick whilst clearly 'Brahms' is worthy of a smile at the very least.
Sadly, football perhaps takes itself a little too seriously in the 21st century and that I reckon is the problem.
Although the good judge left the door open to it happening again I don't think for a minute there will be a repeat.
A drunken free kick really doesn't upset me anything like as much as a win-less Boleyn campaign so far!
Loosen up everybody