By Hughie Southon
Declan Rice has revealed the new found confidence in the squad following four undefeated games – two of which have come against top clubs Newcastle and Chelsea.
The captain was a little off colour with a virus yesterday in the 1-1 draw at the London Stadium but he and his long time midfield partner Tomas Soucek looked a serious force in the second half following the earlier substitution of Lucas Paqueta.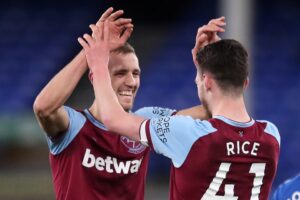 That came as no surprise to Declan after the length of time he and the Czech defensive midfielder have formed the back for protection unit.
It was a good draw with the pair of them and back four making like more than a little difficult for a team assembled at a cost of £500 million with the forward line costing around £200 million
"It is always good to play against Chelsea," Rice said, "you always want to win the big games, the derbies.
"I have played with Tomáš for so long, so it was really easy to adapt to [Paquetá's substitution]. You know what you are going to get with me and Tom. We are going to work our socks off and be really solid and hard to play through.
"In the last 20 minutes, it was there for us, and we could have maybe nicked it. But it is a good point and we have been solid since the start of the year, so we need to keep going."
For Rice, this run is just the start. The Irons need to continue their change in form when they head to Tottenham Hotspur next Sunday – they then conclude February's action with a home fixture against Nottingham Forest.
"I am sick and tired of looking at the table and seeing where we are," Rice stated, honestly, "as a player it is horrible. You are constantly worrying about other people's results, constantly knowing you have to go out there and win; the pressure is on.
"We have been really unlucky with our defensive injuries, but we have adapted well, and we still believe we have enough to push up the table.
"Since we played Brentford in the FA Cup, we have been strong; we need to continue that against Spurs next."