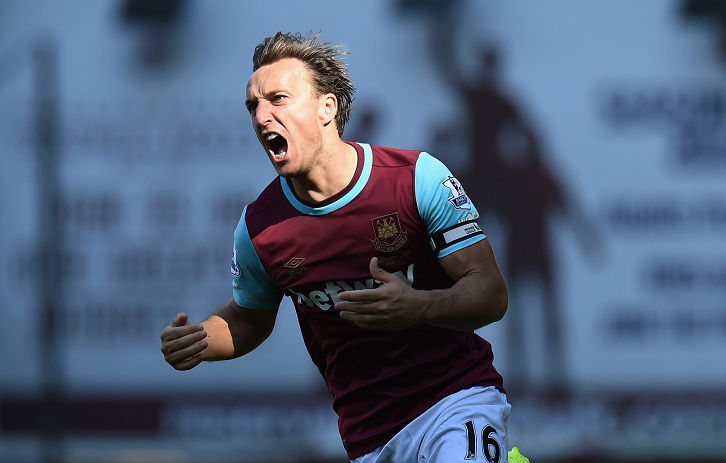 Manager Slaven Bilic has voiced the Roy Hodgson 'bias' that many Hammers fans believe to be the case – Mark Noble would play for England were he to belong to a bigger team.
Incredibly, Hodgson promised Jack Wilshere he would go to the Euos although he hasn't played for the fading Gunners all season after breaking his leg in August whilst Noble has skippered the Irons to within touching distance of a Champions League place.
Aaron Cresswell has also been overlooked for England squads, despite his continued progress since moving to Upton Park from Ipswich.
Speaking before today's visit to Everton Bilic said: "I have a right to say my opinion and I don't understand why Mark Noble is not in the England team.
"Tackling-wise, running-wise, fitness-wise, skill, most of all skill-wise he is one of the top midfielders of the season.
"We have that situation with Cresswell as well. Bigger clubs' players are in the squad when not regulars. It shouldn't be like that, especially in England and especially now that the season is like a bit of a different.
"In Russia's squad, most of the players are from Zenit, CSKA, Lokomotiv, Spartak and one or two from Kuban or Krasnodar – they have to fly week-in, week-out to come. In Turkey, it is Fenerbahce, Galatasaray, Besiktas."
Bilic himself earned 44 caps for Croatia before going on to manage his country's Under-21s and senior sides.
He admitted he could understand Wilshere being one of Hodgson's favourites, as Luka Modric was one of his key men during his time as national coach.
He added: "Roy Hodgson is not a new manager, he was with England in Ukraine/Poland and Brazil, this is his third big tournament.
Former Croatia national team boss Slav knows what he's talking about when it comes to international quality players and added: "Maybe Wilshere is to Hodgson what Luka Modric was to me. I would take Luka even if he was missing a big part of the season.
"My manager back in 1998, he took me to the World Cup and it seemed impossible for me to play. But he took me there and I played all seven games and we won the Bronze medal.
"I have a very good relationship with Roy Hodgson, I have known him a long time. He has been to my office five or six times before games this season and he is great.
"For the national team [at the Euros], this is going to be for at least six weeks day-in, day-out isolated from the outside most of the time.
"The most important thing there – I was a player twice and a manager twice at the big tournaments – is the atmosphere in the dressing rooms. It doesn't get to Mark because Mark is a brilliant player – he is not a drill-breaker or a trouble-maker.
"It's only my opinion, but Mark Noble has had a fantastic season."