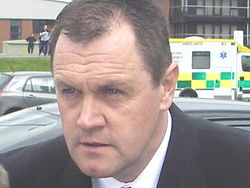 Academy manager Terry Westley (right) will take charge of the team for tomorrow night's Europa Cup clash against Lusitans.
Slave Bilic was expected to take the team against the Andorran league runners-up in the first leg of the first qualifying round but he is currently in Ireland, where he is overseeing a training camp with some of the club's first-team players.
But according to national reports he will return for the tie at Upton Park but it will be Westley who is in charge in the dugout. The lineup will be made up of a mixture of first-team players and under-21s. Bilic is expected to watch from the stands.
Westley said: "When there was a change in management at the end of last season and we knew that we had qualified for Europe [via the Fair Play League], we couldn't just sit back and not do anything. We had to put plans in place.
" It will be a privilege and an honour to play a role on Thursday and when you think the game will be a sellout, it shows that it has caught the imagination of everyone.
"I see my role as helping Slaven integrate with the group and the team, making that transition as smooth as possible and he will come back for the game on Thursday. He's the manager.
"He's very interested in seeing some of the younger players and he's also got some senior players in this team, who will be part of his squad that he'll want to keep a close eye on. He will be with the team and in the dressing room and a big part of what we're trying to do on Thursday.
"We're doing all we can to support him and our job is to get over the first qualifying round. With the manager integrating his staff