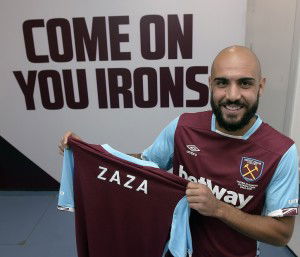 op Life is never dull with Slaven Bilic as club manager.
As we approach a game of immense importance this evening (Sat) the boss has opened up on Simone Zaza and what the future is likely to hold for him.
Despite widespread claims – we were told ouselves by club insiders – that the club could cut short his loan and that Valencia and Naples were keen, the manager isn't having any of that.
He said in hs press conference: "He's our player, we got him, he's here. He's training good and we expect him to do the job.
"I have to make a decision on Zaza over Saturday. That is the only decision I am thinking about: the game against Palace."
Now, it does little good to 'murder' a player and we have no intention of doing so here. The guy must have plenty about him to have become a striker for one of the best international teams around and to have become a Juventus squad player.
That we haven't seen it yet from him – or come to that from many others – is rough on us but there remains a contradiction in Slav's thinking.
He says he's our player, he's not going anywhere, yet he's not sure about playing him this afternoon. All a little odd and it may be that a scenario is building where Mr Bilic has one view and the owners take another. There could be a fair bit at stake given the fees involved.
Let's not call it a showdown – that would be over the top but one can see some pretty tough words being exchanged if his form fails to emerge.
Zaza arrived on a £5 million in loan fee and there's the additional issue of the appearances clause which is widely believed to be 14 before the deal has to become permanent.
Meanwhile, Gokhan Tore cost another £2 million so some creased brows over a possible wasted £7 million are not hard to imagine in the boardroom.
Slav will be praying that one or both come good very soon as even in these times to see £7 million go down the swanee is a bit hard to take.
This one could run and run and as far as today's concerned I would bet a lot of money that even should Zaza not start he will appear at some stage!
And I'm not at all surprised that given everything Slav has taken the position he has over the matter.