Wolverhampton Wanderers has often been named as one of the clubs with home West Ham either is – or should – be competing for a top seven place. However, there has been a small revolution going on at Molineux over the last two or three years and here respected midlands sports journo TIM NASH explains why the famous old club is currently soaring and his disappointment with the Hammers on Wednesday night. Tim has been covering the fortunes of Wolves for 20 years and been a supporter for four decades. Like ourselves, he now has his own website, www.wolvesbite.com, dedicated to the club. Here he tells West Ham fans why the Molineux men are where they are.
BY TIM NASH
Most Wolves fans heading to Molineux on Wednesday night might have been expecting a stern test from West Ham.
An experienced squad packed with expensive signings managed by a Premier League winner all seemed to add up to a major examination of Nuno Espirito Santo side's credentials.
But what they got was more evidence of just how far Wolves have come under Nuno and owners Fosun with  the Hammers were outplayed for long spells.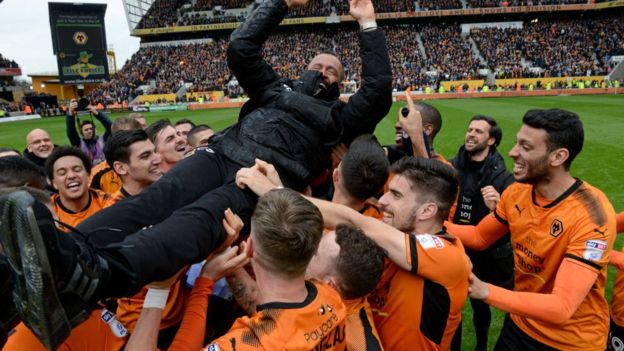 Wolves' 2-0 win flattered West Ham, who barely laid a glove on them.
The Irons' performance left many thinking Manuel Pellegrini's conclusion that his side 'dominated most aspects of the game, especially the second half' either showed that the the 66-year-old was either watching a different game from the rest of us or that he is taking the visiting fans for a ride.
My money is heading towards the latter, which, if true, is an insult to those supporters who paid good money travelling to watch their team on a freezing Wednesday night in the midlands.
Over the last 12 months, Wolves have joined West Ham in that middle bracket of teams aiming to get into the top six and challenge for Europe.
It doesn't take much to agree they may have overtaken them.
Wolves finished seventh, were FA Cup semi-finalists and qualified for the Europa League in their first season back in the Premier League when the Hammers were 10th and five points behind.
Now the gap has widened. Wolves are fifth and West Ham 15th, while the points difference is seven.
This is despite Wolves having played four more games than any other team in the top flight because of their Europa League exploits that have carried them to the knockout stages, and with the smallest squad.
So how have they done it?
You have to look back to when Fosun bought the club from Steve Morgan for a £30m investment in July 2016 (Our Note: presumably so cheap as at the time Wolves were a Championship club).
The Chinese investment conglomerate owns companies worldwide; its chairman Guo Guangchang is worth an estimated £4.8 billion.
They own a 20 per cent stake in Gestifute agency, the company of Jorge Mendes, the super agent.
To say Wolves have benefited from Mendes's elite client base would be an understatement but he is not on the payroll and the club stress he only advises.
Fosun's investment – somewhere in the region of £228m and upwards on transfer fees alone in three and a half years – quickly changed the parameters of the club, but they didn't get it right immediately.
After sacking the popular and admirable Kenny Jackett, Nuno is their fourth head coach after the short lived reigns of Walter Zenga and Paul Lambert.
Chaos reigned under Zenga, while as it was put to me at the time, Lambert had identified a British target to come in at say, left back when Mendes could offer him 100 left backs from all over the world.
Lambert wanted his target because he knew him, but Wolves with Mendes's vast contacts book were now thinking much bigger. There was only one winner.
Nuno was Mendes's first client as a player and the pair have been close ever since.
A case can be argued that along with Fosun's investment, there have no bigger influences on Wolves' success than Mendes and Nuno.
One opens the door to signings that would never have been within Wolves' reach before – a prime example being the luring of Ruben Neves and Diogo Jota to play in the Championship – the other has transformed the playing fortunes of the club.
Even before Nuno, under Fosun, the club's transfer record was broken twice – £7m for Ivan Cavaleiro and £13m for Helder Costa, both clients of Mendes.
Since then it has been smashed on three more occasions, for Neves (£16m in July 2017), Adama Traore (£18m in August 2018) and Raul Jimenez (£32.6m in July 2019).
But the signing of Jimenez, who has scored 15 goals this season in all competitions, is the only time a fee of more than £18m has been paid (Patrick Cutrone could become a £20m deal).
The other significant arrivals have been £15m for goalkeeper Rui Patricio, 31, £18m for wing back Jonny Castro Otto, 25, £10m for centre back Willy Boly, 28, £14m for forward Jota, 23, £12m for centre back or midfielder Leander Dendoncker, 24, £16m for Cutrone, 21, and £16m for Pedro Neto,19.
Arguably the best value for money signing was Joao Moutinho, who cost £5m from Monaco, in July 2018.
A 'try before you buy' policy has also worked well, and avoided any breach of Financial Fair Play rules.
Costa, Boly, Jota, Jonny, Dendoncker and Jimenez all signed on loan before joining permanently, allowing them to settle in first before committing to a fee.
West Ham have been accused of having an ageing squad. By and large, Wolves buy assets.
You could argue there is no sell-on value on Patricio and Moutinho for example, but they generally snap up young and hungry players anxious to improve whose value on the balance sheet exceeds what was paid for them.
Nuno's input cannot be understated. Within a month of his arrival, he had established a new style of play that has formed the foundation of every game played since: 3-4-3 with the occasional tweak to 3-5-2.
Anyone saying his success is down to money should look at the improvement he has brought to those players who were already at Molineux.
Conor Coady was a midfielder-cum-right back who cost £2m in 2015. Nuno turned him into a sweeper to sit between two centre halves. He had never played in the role before but has now reeled off 88 consecutive league appearances.
Matt Doherty, a Mick McCarthy signing costing £70,000 way back in 2010, was a versatile right back who had been playing as an emergency left back for 18 months.
Under Nuno, the 27-year-old has developed into a flying, goalscoring right wing back who scored eight goals last season.
Nuno insists on having a small squad, which means it helps if players are versatile.
Each of the current three halves – Dendoncker, Coady and Romain Saiss – has been a career midfielder.
Doherty, who can also operate at right-sided centre back, and Jonny can switch flanks, Traore can play wing back, winger or striker, and Jota can play winger or striker.
Another key to their success is fitness. Wolves had a target of 95 per cent availability of their first-team squad under Jackett. It's now 98 per cent. There were no serious injuries last season and only Boly of the senior squad is out long term this time, with a broken ankle.
They have had the smallest squad in the Premier League for the last 18 months, with just 18 players supplemented by Under-23s.
Yet their powers of recovery are remarkable. This requires a fierce belief in the head coach's methods, but because of the success he has achieved, everyone is behind it and united in their conviction.
Wolves are very much a team. Whether West Ham are as united, s an issue on which the jury is out at West Ham.