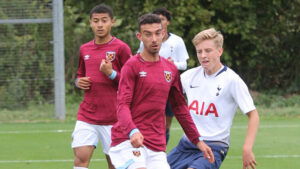 West Ham's Sam Caiger lashed home a 78th-minute winner as the under 18s scored a fine victory over Spurs  3-2 today.
Caiger converted after defender Marqes Muir had blocked substitute Gael Kileba's attempt in the box, there was to be no response after a hard fought game and the Hammers came away with their win.
Spurs striker Asante and midfielder Rafferty Pedder tested Hammers goalkeeper Krisztián Hegyi early on but we took the lead on the counter through Kai Corbett in eight minutes.
Spurs equalised in the 52nd minute when Asante was on hand to thump a first-time shot high into the net.
They were level for just four minutes, however, when Dermi Lusala was penalised for a challenge six yards outside our box and Parkes struck a right-footed free-kick from right of centre into the far top corner.
Asante grabbed the second equaliser but Caiger ensured the Hammers came away with a fine victory over the old enemy.