Former Hammer John Moncur goes in-depth into the circumstances surrounding his switch to the Hammers in 1994 explaining how he turned down Chelsea in favor of West Ham.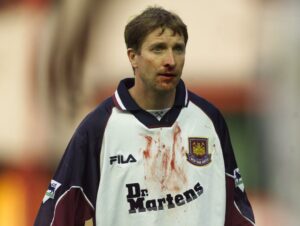 Speaking to the clubs official website WHUFC.com Moncur gives in depth interview as the first of a new series of former players.
Boyhood West Ham United supporter John Moncur joined Hammers in 1994, signing for the Premier League side from Swindon Town.
The midfielder would go on to enjoy almost a decade in a West Ham shirt, playing 203 times in all competitions, scoring nine goals. Only seven men in West Ham history have played more Premier League matches for the Irons.
"When I joined in '94, there was no way I expected to have that length of West Ham career," Moncur told whufc.com. "To be with the Club for nine years, it was the greatest decision I ever made in football."
With offers on the table from both Chelsea and West Ham, Moncur had a choice to make. The boy born and raised in East London, in a family mad about the Irons, had to become a West Ham player. A recent tragedy, the passing of his grandfather, confirmed it.
Moncur admitted. "Chelsea was a real option. They obviously weren't as big as they would become a few years down the line. The two contracts on offer weren't far apart, but I just had a feeling.  Being at Tottenham's Academy, I was made to go there on Saturdays and watch their first team games. But every midweek game I would be with my mates, we would get on the Central Line and we would go to the Boleyn Ground. I would watch every midweek game at Upton Park when they were on.
"I can also remember being eleven or 12-years-old, and I played for a club in Romford. Our home games were on the field next to Chadwell Heath, and I can remember peering through the fence there. On the odd occasion, West Ham would be out training, although it was about 300 meters away and you couldn't tell who was who. 
"I was born in Stepney and my family was from Bow. My parents had grown up in an area where West Ham was our home club. My grandad on my mum's side was West Ham mad too and, at the time, he had recently passed away, so maybe my heart ruled my head a bit.
"It was the place I always wanted to play and I had something deep down in me that always made me want to play for the Club. It was the Club I wanted to play for more than anyone."
The full interview can be read at https://www.whufc.com/news/articles/2020/april/11-april/how-and-why-i-joined-west-ham-united-john-moncur