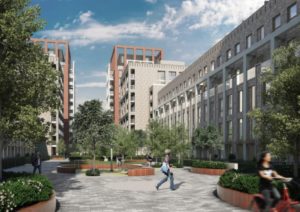 West Ham supporters will get the chance to name a tower block at Upton Gardens after a West Ham name of the past.
Some blocks on Barratt London development where the Boleyn Ground once proudly stood have already been named in connection with the site's football heritage.
Academy House, Arnold Hills House, Taylor House and Lyall House already refer to West Ham's history in Green Street.
West Ham fans have been asked to vote is on the name of one of the two centrepiece towers. Newham Council has been asked to name the other.
Fans will be able to choose from five figures from the club's 112-year tenure at the ground.
West Ham joint-chairman David Gold said: "When we left the Boleyn we were clear that respecting the legacy of the Boleyn was an absolute priority. It's important to us and we know how important it is to our fans. We wanted supporters to be involved in the process of honouring not only the Boleyn, but a club legend too."
The choices are Bridgeman House – Billy Bridgeman  Cantwell House – Noel Cantwell  Hufton House – Ted Hufton  Sealey House – Alan Sealey and St Pier House – Wally St Pier
You can also place your official vote at https://www.whufc.com/news/articles/2019/march/11-march/west-ham-fans-vote-name-residential-block-boleyn-ground-site
Vote closes 22nd March 2019