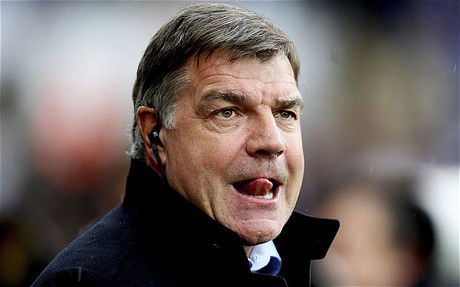 I am suffering an unfamiliar emotion this afternoon – I feel rather sorry for Sam Allardyce and certainly am not in a mood to blame the man for today's result at White Hart Lane.
Nor do I blame Harry Kane for grabbing a soft penalty at the end although I hold Alex Song fully responsible for today's debacle.
This man surely has to know at this stage of his career that laying hands on the back of a striker moving AWAY FROM GOAL inside the penalty area in the last seconds is dangerous bordering on stupid.
Today's game, however,  cannot and shouldn't be taken in isolation. We have now managed one victory in eight games and for every decent performance we get a less than average display.
Sam himself in assessing the game today said: "We were in front against West Brom and drew 1-1, we were in front against Manchester United and drew 1-1, and we were in front at Swansea and drew 1-1."
Don't ask me what the problem is because the manager himself doesn't seem to know how to solve it.
But a team  throwing games away at the death is not good and whether the pro-Sam lobby like it or not, in the end it becomes his issue simply because he's the boss.
He is the man charged with getting results and to see a senior pro make a colossal error of judgement in helping Kane to go down needs some addressing.
I would like to have been a fly on the wall of the dressing room after the game but fair play he refused to blame the bloke publicly.
The bottom line is simple! The longer this win-less run continues the more the pressure builds because the hard luck stories from individual games disappear within a couple of days as has been seen with the Manchester United match for example.
An overall picture is emerging of a team that has forgotten how to win and frets even when it looks as though it might. The first text I received after the game read: "See you threw it away again – that team has a problem,"
At the end of the day ( as they love to say ) I am afraid, love him or hate him, it really is a managerial problem!