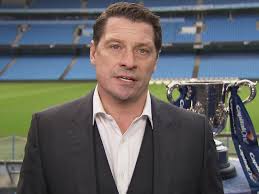 Tony Cottee has told the West Ham 'old guard' supporters that if he can live with the style of football being played at the Boleyn so should they  – for the time being anyway!
TC grew up under legendary ball playing manager John Lyall who continues the 'pass, pass, pass' philosophy of the great Ron Greenwood.
However, he refuses to cling on to the 'purist' mentality that has dogged so many of us down the years and puts it simply: "Of course I love that football but the game's changed and we have to change with it.
"There has to be a balance between passing for the sake of it – which we see far too much of now – and the 'get it forward' fast and press up game.
"I have seen matches over recent seasons where teams are involved in keep ball sessions – possession for it's own sake and it absolutely bores me to tears.
"Even the first half of the Manchester City v Barca was a bit like that and 45 minutes of the Spurs v Norwich game was awful."
Cottee knows of course that Sam Allardyce splits opinion like few managers before him smiling: "Definitely Marmite isn't he? You do or you don't.
"For me he's the perfect manager at the moment, because this is a season of stability,  and had the two Davids sacked him they would have been looking for another Sam Allardyce!
"They deserve great credit for sticking with him because whether we like it or not, we are leaving the Boleyn and heading for the Olympic Stadium and we HAVE  to be in the Premier League.
"I never had and still don't have any doubts that we will  be relegated – four wins on the bounce tells it's own story."
TC explained in his last ClaretandHugh column that he believed there were teams with far worse squads than us when we had our players back from injury.
He called  February accurately claiming we'd pick up at least three wins and explained that having done so all, the credit must go to Sam, the Davids and of course the team.
And he pleaded: "First and foremost we are all Hammers. I understand that Sam Allardyce doesn't keep everybody happy but for me he's the man for now.
" I am a former player who loves this club with all his heart and grew up in those days so many recall. It's not the same as it was but nothing is in this game but Sam's done all that could have been asked of him."