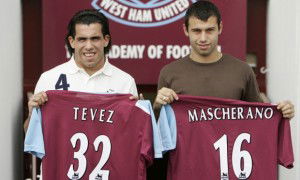 Sheffield United are on the verge of a return to the Premier League which is guaranteed to create a new rivalry between the two teams.
Times journalist Henry Winter who gave evidence against West Ham at the time said on Twitter over the weekend: "Sheffield United . Unfairly relegated in 2007 given West Ham/Tevez iniquity, congratulations #SUFC on returning (barring GD freakery). Wilder inspirational. Team hungry. Sharp, Norwood all the players given everything. Nb: @premierleague fixtures announced 9am, 13 June."
Memories of Tevez and the court cases that saw West Ham ordered to pay out £20million in compensation to Sheffield United which they paid off in 2013 are well known to Hammers fans. The club was fined a record £5.5m by the Premier League instead of a points deduction and that decision remains as inflammatory as ever for some 13 years on.
Tevez's arrival with Javier Mascherano at West Ham on transfer deadline day in August 2006 sowed the seeds of what has become a mutual loathing between the two sets of fans. Third-party agreements concerning the players came to light and the independent Premier League commission's decision to impose what remains a world record fine rather than a points deduction angered Sheffield United who commenced legal action.
West Ham believed that "they were entering into valid, enforceable contracts and were of that belief at all relevant times" with Tevez and Mascherano and were shocked that the signings were believed to have broken Premier League rules.
A Premier League survey in 2006 requested all clubs to volunteer details of any such third-party agreements in January and West Ham were the only side, to be honest enough to volunteer details believing they had done nothing wrong.
The practice of offshore-company ownership of players was widespread and even authorised in overseas leagues, particularly in South America at the time and yet the Hammers were the ones to be made an example of while a blind eye was turned to bigger clubs.
Third party ownership was only globally banned by FIFA in 2015, some eight years after the Tevez saga.
As recently as 2016 former West Ham manager Sam Allardyce told undercover investigators that third-party ownership rules can be avoided.