The win today was for Mooro!
He was the man who drew so many of us to the Hammers and was responsible for more magic moments than anyone has a right to expect from the beautiful game.
English football is forever trapped in amber, and returns to that moment endlessly, and can't get over it, and can't get enough of it, and broods about that moment as if it were a lost lover, seething with regret, and wondering if the moment could ever come again.
That was just part of the reason the the Moore family laid their tributes to the great man at the London Stadium this afternoon.
It all happened at Wembley Stadium, late in the afternoon of 30 July 1966. The sky is clear after summer rain. In their unfamiliar red shirts, the England team hoists their young captain onto their shoulders. In his right fist is the World Cup.
On his face is a smile that lights up a decade, a sport, a nation. Bobby Moore of West Ham United, 25 years old and in his triumphant prime, the England captain with the Jules Rimet trophy in one hand, and sunshine on his golden curls.
The footballers of the Premier League make more in a year than Bobby Moore made in a lifetime. And yet it feels as though every one of them is living in his shadow.
Who ever looked better in Vogue than Bobby Moore? Whoever came anywhere near what he achieved on that summer's day in 1966? Whoever looked more perfect for the role that history had chosen him for?
Taken by cancer at only 51, Bobby Moore's legend rests on 642 matches for West Ham, and three successful appearances at Wembley — the FA Cup final of 1964, the victory in the European Cup Winners' Cup final in 1965, when West Ham beat 1860 Munich, and then that summer's day in 1966. If the rest of his life was an anti climax, then how could it be anything else?
Bobby Moore was down to earth and yet he was a hero. At the dawn of our age of cut-price fame and increasingly disposable celebrity, Moore was the real and unforgettable thing. He was loved, truly loved, by millions of people who had never met him. And we miss him still.
There are monuments to Bobby Moore. A statue at Upton Park and another at Wembley Stadium.
But the real monument to Bobby Moore is the love and affection and hope that he still inspires in the hearts of every English football fan.
xxxxx
Put your hand up if you remember "The Rochdale Whippet" Alan Taylor. At the time eyebrows were raised when John Lyall shelled out £40,000 for a Division Four player.
Granted, Taylor had started the 1974-75 season well, hitting 10 goals in five matches for Rochdale but he had done little of note before that, having been jilted by Preston as a 17-year-old before living it up in the obscurity of Lancaster City and Morecambe.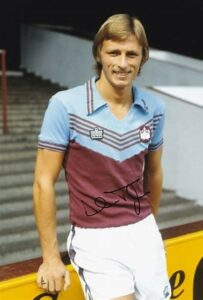 Lyall signed him on his 21st birthday in November 1974 and injuries prevented him from making any early impact at Upton Park. Injuries had also kept him out of Rochdale's FA Cup endeavours that season, which was just as well: because not being Cup-tied enabled Taylor to take the tournament by storm.
With West Ham struggling for goals (no change there then), Lyall decided to drop the magnificently mono-browed Bobby Gould and give Taylor his first start in the FA Cup quarter-final at Arsenal. He scored the only two goals of the game.
A month later he played in the semi-final against Ipswich, scoring another brace in the replay after this first match ended 0-0. Those four goals were double the total he managed in 14 league appearances for West Ham that season.
But the best of his Cup exploits was yet to come: for the final against Fulham, where he was marked by none other than Bobby Moore, he twice profited from cack-handed goalkeeping by Peter Mellor to help win the FA Cup for the Irons.
Taylor had peaked. Although he scored 13 goals the following season, injuries made him only an intermittent presence in that campaign and cost him his starting place in the European Cup Winners' Cup final. Injuries continued to hound him but he battled through setbacks and played for West Ham for two more years before stints at Norwich, Vancouver Whitecaps, Burnley and others, but 1975 remained this dog's greatest day
xxxxxxxx
Pass the Werther`s Originals around and get the slippers on, as it appears that we have the oldest starting XI in the whole of the Premier League with an average age of 28.2 years.
Remind me again what is our Academy for?
xxxxxxxx
And finally some more classic Harryisms
Samassi Abou don't speak the English too good.
I left a couple of my foreigners out last week and they started talking in foreign. I knew they were saying "Blah, blah, blah, le bastard manager…"
He is not injured. He's not fit. He's not fit to play football, unfortunately. He played in a reserve game the other day and I could have run about more than he did. I can't pick him.