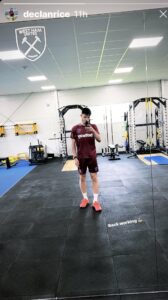 A senior club insider has again repeated that NOTHING has changed on the Declan Rice front and is unlikeley to do so!
There has been no offer, no enquiry, no discussion with Chelsea, agents or any other club for the 21-year-old who is NOT for sale anyway!
Duncan Wright writing for The Sun continued the tabloid's ' Chelsea want Rice' campaign by upping the asking price to £80m in a report published yesterday.
Rice was missing from the win against Brentford while he recovers from an ankle injury and yesterday posted a photo of himself working in the gym.
It remains to be seen whether he will be fit enough to join the England squad but his absence is not related to transfer rumours which have been recycled all summer.
At this rate, tabloids will be recycling Declan Rice stories with bids in excess of £100m by the time transfer window shuts on 5th October.