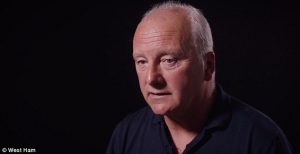 The West Ham racism row rumbles on with Tony Henry at the centre of it as the FA steps in with a demand to see e mails at the heart of the affair.
That's not good news for anybody at the club when the text of Henry's electronic correspondence is studied word by word.
For the director to the board responsible  the board claims that "we" not "he" "don't want any more Africans."
As a result any inquiry into what went on needs to ask the question of Henry: "Who are you referring to when you talk about "we."
Henry is currently suspended from duty but given his use of the collective word "we" many questions need answering before we have closure.
Here are  the key words from the e mail which we believe was addressed to another agent trying to put a player into the club:
'We don't want any more Africans and he's not good enough. I sent Thomas to watch him and the other lad last week and he said no. If Palace take them good luck.'
Henry then confirmed it was true and suggested it was a policy supported by club management. 'Yeah,' Henry replied. 'Because we had three and we felt we didn't particularly want any more African players.'
In one CandH story we inadvertently used the word "he" as in Tony Henry which was incorrect and we apologise to him and readers for misquoting  the e-mail.
The  word "we" is far more embracing and suggests this story could run and run.