We are re-running it here for the benefit of those who might otherwise have missed it.
By Hugh Southon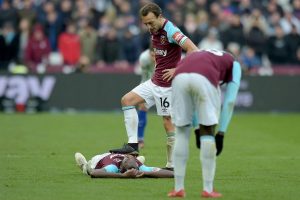 Whatever may or may not happen at the London Stadium this evening (Wed) – and given that we are West Ham United that could be absolutely anything (!) – all the signs 'dahn east'  are more than a tad encouraging!
At the time Slaven Bilic was fired I wrote in  in these columns  that 'Sgt Major Moyes' was about to provide a serious culture shock to an under-performing Hammers squad adding: "He may just be the man required and that we should all be ready to give him his chance."
Just a few short weeks later we are looking at a team which over the last two games against top four opposition is almost entirely unrecognisable from what had gone before.
What make is all so West Ham is that it had come from such an inauspicious start with an expected defeat at Watford, a battling draw against Leicester and a disastrous 4-0 at Everton. Score at that stage: Moyes 1 Angry fans 7!
Then came the amazingly gritty performance at the Etihad which saw us go down to the narrowest – and possibly of ill deserved – defeats against the champions elect in which a teenage defender Dcan Rice featured strongly against the deadliest array of strikers in the PL.
The old saying that football is played 80 per cent between the ears was shown to be true because we then immediately go out and beat last year's champions at the London Stadium.
There were clues galore that Moyes is getting things very right when looking at the formation and tactical approach  last weekend with three at the back INCLUDING Aaron Cresswell.
This gave new hero Arthur Masuaku the run of the left side to show some quite extraordinary skills which, for some, of us recalled the heady days of another Frenchman – Dimitri Payet.
As a regular on the ClaretandHugh Facebook pointed out so astutely: " It's somewhat ironic that the emergence of Arthur has been instrumental in the re-emergence of Cresswell. We all saw them as rivals – Moyes obviously saw them as completely the opposite. They compliment each other instead of challenge each other. Great thinking."
Masuaku ,23, has incredible feet and was giving top class Premier League players a serious run around last Saturday as the Bilic 'buy' for that position at £25m – Marko Arnautovic – was moved inside to support Michail Antonio.
Such were their endeavours, that the previously listless Marko and high energy 'Mikey' both needed to be subbed as exhaustion flattened the Hammer of the Year in particular.
The pairing ensured that even when we were under pressure, there was an "out" ball to forward players who carried a real chance of increasing out lead.
Arnautovic's non stop  running meanwhile defied every criticism that he only does it when he feels like it whilst seeing Antonio flat on his back and unable to move was a sight to behold and demonstrated the levels of fitness this man demands.
But Moyes is more than a training ground drill sergeant – he's a thinker and clear headed unemotional 'gaffer' who simply tells it as it is.
Asked his plans for the transfer window soon after arriving his answer was straightforward: "I am only interested in working with the players I have and improving them."  Well he appears to be doing precisely that game on game so let's take another remark a little more seriously: "Chelsea are a fine side and I hope we can play like that."
We showed it was possible even with this imbalanced squad via a goal which came after just six passes and a great conversion through the most congested part of the park.
It's all starting to to look good but that often elusive Hammers virtue – consistency – has to become the keynote feature of our play. If that turns out to be the case, all things may  be possible for a manager who what he may lack in charisma makes up for via a work ethic to die for.
So on to this evening and I'm going for a draw but would not be surprised if it's another three pointer. However, I'm also hoping we aren't talking about "that being the West Ham Way " afterwards should we get the wrong result!