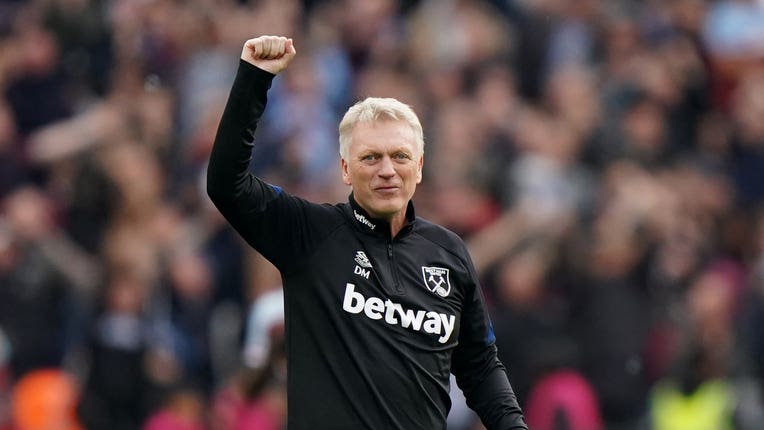 David Moyes  was thrilled with today's victory as was seen by all those looking in his direction after Danny Ings' second goal when the manager leapt into the air in celebration at a match which by then looked well and truly won.
And after the biggest win of the season and leaving the bottom three he had every right to feel well and truly relieved.
Forest were by no means anything like the best team to visit us this season and with now only one win against Southampton on the road they look a team that may well be locked down towards the bottom all season.
The Hammers scored four goals in a scorching final 20 minutes at London Stadium as they swept to a comprehensive 4-0 victory over Steve Cooper's outfit.
West Ham had to be patient as they searched for their breakthrough, dominating the opening hour without finding the net, but were more than rewarded in the end as they secured a valuable three points, four goals and a clean sheet.
The success was Moyes' 250th in the Premier League, making him just the third manager to reach that milestone following his friends and former rivals Sir Alex Ferguson and Arsene Wenger.
And the manager delivering his post match verdict said: " It was a little bit of relief in my reaction [after the second goal] but we were worthy of the result.
We played well enough in the first half but couldn't get a goal and I thought 'here we go again'.
But we stuck at it, we didn't say too much to the players [at half-time as] we just wanted them to keep doing what they were doing.
We didn't start the opening five minutes or so of the second half well but I thought we grew into it and obviously got the goals in the end.
But the fact of the matter was it could have, because it has happened to us in quite a few games.
Today we got the first goal, which gave us a real chance and I thought once we got the second, the freedom and the look to the players was something we hadn't seen for a while – but we had seen six months or a year ago.
Once we got the second goal it looked a lot easier, that's for sure.
I felt we started to pass it better, we started to get the space to receive the ball and turn.
I thought the subs came on and helped us today too – Pablo [Fornals], Manu [Lanzini] and then Micky [Antonio] got a goal when he came on and that's what we need.
Let's be fair, in lots of the games this season we've really struggled to score and for 45 minutes it looked that way as well, but I actually thought we played quite well in the first half.
I changed it today to go from a back five to a back four.
We've had a really good record playing with three or five at the back, but today I just felt I wanted to try to get more midfield players in the team and more people who might create.
Everybody played their part. Unfortunately Vladi [Coufal] had a bit of an injury in his heel which meant he had to come off at half-time, but overall they all played their part today.
We've had a huge amount of away games since the turn of the year.
In our home games so far in 2023, we've had Everton, Chelsea and today [and taken seven points from nine], but we just feel like we're away that often, and now we've got three in a row again [at Manchester United, Brighton and AEK Larnaca].
We're going to need the crowd. The crowd were quiet for periods because they were worried about the team but we need them to get back to their noisy best for the big games coming up in the next month or two.
It's my 250th Premier League win and I don't look at that personally – I'm really pleased for the players and the Club because we all know how important it is.
I'm looking forward to the next win, I'm looking forward to winning in Europe, trying to go through in the FA Cup and trying to climb up the league table."