Michail Antonio's amazing England call-up is a reward for dedication and hard work says the man who helped him in his early days – former Three Lions winger  Steve Coppell.
The kid who started out at started out at Tooting & Mitcham was recommended to Coppell when he was manager of Reading by manager of the South London side Billy Smith.
Coppell – speaking to The Mirror – said: "I went to watch him play probably a couple of times and he did have something different and it was always the difference that appealed to me with non-league players.
"It would maybe sound wrong to say it now but there was something refreshingly naïve about him in terms of his attitude, his manner, his ability.
"He had good ability, he was obviously very raw at that stage and we just decided to give him an opportunity and see what he could do with it.
"He had pace, the ability to beat people and a determination which is still apparent now.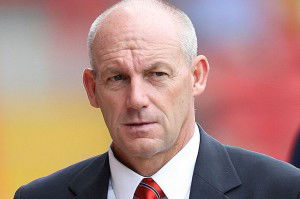 "When the ball comes into the box he wants to get on the end of it and he has got an eye for goal.
"I could tell he had something that would make him be better, that would progress him but I didn't know how far it would take him.
"He had a willingness to learn from day one. He was a very quiet boy in those days. You didn't even know he was in the room but you got the impression that he was watching and learning all the time and since then he has just progressed and progressed.
"It has not been an overnight success. He has had to work for everything he has achieved and this is another part of his process.
"When we eventually signed Ian Wright I did say to (Palace chairman) Ron Noades 'I know this sounds stupid but he has the ability to play for England.'
"It wasn't so obvious with Michail but he had something which set him apart from other players at that level.
Antonio had five different loan spells while at Reading and then made permanent moves to Sheffield Wednesday and Nottingham Forest before joining West Ham for £7million last summer.
Coppell said: "He has taken a fairly circuitous route (to the top). He has kept knocking away and working at his trade.
"That is always good to see. If something is dumped in somebodies lap and they haven't worked for it they don't appreciate it as much as the years work he has put in to get where he is.
"And he has worked for it. We perhaps opened the door for him (at Reading) but he has come charging through with all his might and congratulations to him.
"I am delighted with how he has progressed over the years and very pleased that the raw talent we saw in those early years has been transferred into a potential England player.
"He is not too conservative in the things he does, he still makes mistakes but again the thing that I have enjoyed seeing is his elevation.
"He has got better with the elevation to West Ham and now with the elevation to England it is whether he can raise his game again and go on again because I'm sure he doesn't want to be a one call-up wonder.
He will want to make sure he cements himself into the England setup."