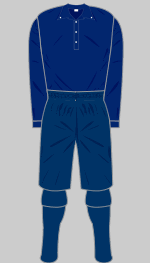 Following the announcement of the away kit this morning West Ham are expected to unveil a third kit soon. Built of the theme of historic kits in the club's 120  year history, the third kit is rumoured to be inspired by our origins in 1895 when the team played in Oxford Blue as the Thames Ironworks.
The original team colours were Oxford Blue due to founder Arnold Hills being a former student of Oxford University. The Ironworks played their first ever fixture in these colours against Royal Ordnance reserves on 7th September 1895, the game ending 0-0.
Hills was said to be a talented footballer and represented Oxford against Cambridge in the varsity match.