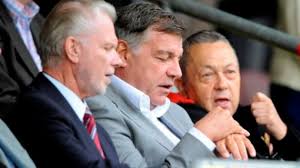 It's a massive irony that West Ham United's owners seem more unsure of Sam Allardyce's position now they are all but safe than they were when the team was in the bottom three!
Throughout some seriously dark mid-winter months, as relegation became a very real possibility, David Gold and David Sullivan stood firm in their support of the 59 year old manager.
Now, however, there is widespread coverage in the national press claiming that one match may have changed all of that – amazingly a VICTORY over Hull City.
Such was the awful level of performance that it brought out the likes of legends Tony Cottee and Frank McAvennie complaining that the lack of entertainment wasn't on.
The former Scottish centre forward went on to complain that the manager cupping his hand to his ear as the boos rang out wasn't worthy of him and added the fans had the right to react how they saw fit.
That this happened at West Ham rather than any other club is no surprise for the older guard supporters will forever remember the 'West Ham Way' they enjoyed under legendary bosses, Ron Greenwood, John Lyall, Billy Bonds and Harry Redknapp.
That the two owners are seemingly in a quandary over  Allardyce's future  is therefore no real surprise for it was Greenwood who laid down and established the Hammers ethic when he declared boldly: "First and foremost football is about entertainment.!"
Fans Sullivan and Gold, a former youth player at The Boleyn Ground, are both fully able to remember those golden years.
Greenwood delivered on his philosophy over  13 years in charge between 1961-74 and it was a policy continued by his disciple Lyall for the next 15 years.
Bonds and then Redknapp inherited the legacy and it became part of the lighthearted folklore of the club that the fans would only entertain a former 'Iron' as manager.
They came and they went but the arrival of Allardyce in 2011 split opinion as sharply as a bottle of Marmite.
His direct approach to the game is dismissed as anti-football by the old guard. The  new breed probably believe this actually is the 'West Ham Way' being naturally unable to remember what went before.
Wednesday night changed all that and there is now a big debate going on inside the club as whether pragmatism or tradition should rule.
A very well placed source inside the club told ClaretandHugh today: "The board ( effectively Gold, Sullivan and vice chairman Karren Brady) want to bring in six or seven players but they also want more style from the team."
And it's  these sort of leaks both here and elsewhere which are leading to all the talk of an Allardyce departure.
Gold and Sullivan are unusually approachable and in footballing terms very outspoken individuals with the former having a twitter account he uses very regularly and the latter regularly responding to fans e mails.
Beyond that his son, 13 year old  Jack, isn't  too reserved about using his own Twitter account to post outspoken news and comment.
It will be a fascinating last few weeks of the season and summer will presumably provide the sort of never-ending gossip to which hardened 'Irons' have become so used to down the years.
Which will win? Pragmatism Athletic or Tradition United? In other words will Sam survive or not?
I hold the view that the co owners will probably keep him going unless a groundswell of fan reaction at the season ticket box office starts to hurt.
Interesting times!