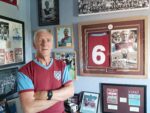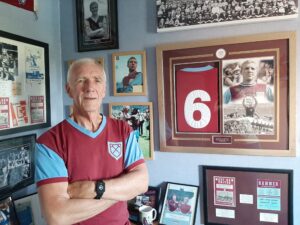 CandH blogger Allen Cummings has been revealing his top ten players  ever to wear the ClaretandBlue over the past few days and he has now arrived at his top three. 
No. 3 – TREVOR BROOKING
Trevor was simply elegance personified. He oozed class and composure in everything he did. Perfectly balanced and equally adept with either foot, Brooking looked and played as if he'd stepped straight off the pages of a soccer text book.
Trev spent his entire footballing career in the service of West Ham United – amassing over 600 games for the club – and after retirement even stepping up as caretaker manager on two separate occasions in 2003 – when his club needed him most.
In fact in his combined 14 games in charge of the Hammers Trevor won nine, drew four and only lost once. No manager in West Ham history has a better win ratio than that.
But it was Brooking's exploits on the field that endeared him to West Ham fans for so many years. Five times winner of the Hammer of the Year award, more than anyone else, speaks volumes about the man.
It's possibly fair to say Trevor wasn't an 'instant' hit at first, playing as he did as a central striker. The fans took a little while to warm to him in that role.
But Martin Peters' departure in 1970 gave Trevor an opportunity to play a more suited midfield role, and he took to it like a duck to water.
Along with his great pal Billy Bonds, Brooking grew into being the focal point of the team for so many years.
Ironically for all his poise, skill and resulting cultured goals, it was perhaps his scrappy, stooping winning header in the 1980 FA Cup Final against Arsenal that possibly sticks in the mind most of West Ham fans from that particular era.