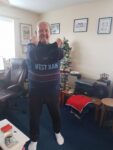 By Hughie Southon
The big question for me this morning is whether there are three teams worse than the Hammers in the Premier League. I'm no longer sure there are!
Nobody expected much from last night but anything other than a win against Brentford – and I'm certainly not confident – will surely see Moyes gone…or it should do. Will that happen?
My replacement would have been Thomas Frank – the Bees boss – but he has now signed a new five year deal with the club.
Moyes has given us a couple of great years and I thank him for that but  – and I don't intend going into all the reasons again as I have declared them before – HE has been found out.
In admitting the manager is responsible in his post match comments before having another pop at the players the old proverb hit me via the lady in my house: A BAD WORK MAN ALWAYS BLAMES HIS TOOLS!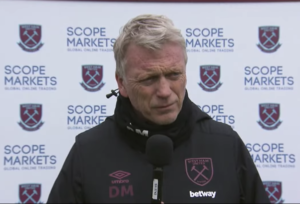 The other big question that needs answering is why they are playing so poorly and I have to start believing the manager has lost them via this archaic and unchanging system which every manager worth his salt worked out ages ago.
History repeats itself in his world – sacked at Old Trafford, sacked at Real Sociedad and sacked at Sunderland – it's not rocket science is it?
He has never had a Plan B and his sell by date has passed.
No idea who replaces him …that's not my job and it doesn't matter anyway,
But it has to be over for this chump and I'm betting the Bees will do us on Friday with Leeds more than confident they can do the same.
And I do hope that after 60 years of supporting this club I am not described as a traitor for calling for a manager's dismissal.
Ask yourselves iif any of the top clubs would even look in his direction! Err NOOOO!