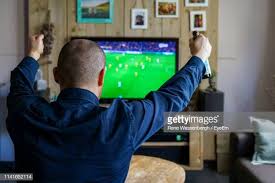 Fans could be 'treated' to a TV football bonanza should the Premier League finally kick off in June.
All 10 games of the 'first day' programme could be on live TV with five shown on the Saturday and the remainder on the Sunday, according to The Mirror.
The bulk of the remaining 92 games will take place over weekends, but there is believed to be a push from broadcasters to show some games in midweek.
That would see a Champions League style format take over with kick-offs at 6pm and 8pm.
Sky and BT Sport have the live rights to 47 games and the remaining 45 will be further shared. Sky would get 32, BT eight and five would go to Amazon and the BBC.
Sky Sports will be one of the broadcasters airing the remaining Premier League fixtures
The ongoing coronavirus pandemic has also seen the traditional 3pm Saturday blackout indefinitely lifted.
The Premier League looks set to get underway on June 12 or June 19 with a decision likely to be closer by the end of the week.
Clubs will discuss the fixture list in further detail in another Premier League meeting on Thursday. They face huge bills of £340million to repay TV companies even if the season is completed, while £762m would be owed if the remaining games cannot be played.
ClaretandHugh says: Some may call it a bonanza, others overkill and still others far too much far too soon. Frankly, I'm not sure the majority of fans will be wanting to watch wall to wall football over the weekend with kick offs every two hours which is why I personally hope that once football returns to normal Amazon gets a larger share of the cake where he can tune into which ever match particularly interest you before moving on to other viewing. We understand why such a plan would be put in place but of more significance from where we sit is with the 3pm Saturday blackout  lifted given the pandemic will it ever return. If that's scrapped – as it could be quite simply – football fans might be on the brink of a real bonanza by being able to watch live TV football permanently. Should games continue behind closed doors next season that becomes an even greater possibility . Interesting times ahead.